Have you got a new bed, couch or sofa? A new fabric covering is necessary. It is to be comfortable and hypoallergenic. However, which bedding accessories to select? For example, what is the difference between throw and blanket? Some of them can be selected for decorative goals. The other ones provide more warmth while sleeping. So, let's think about the covering's look, size, and materials.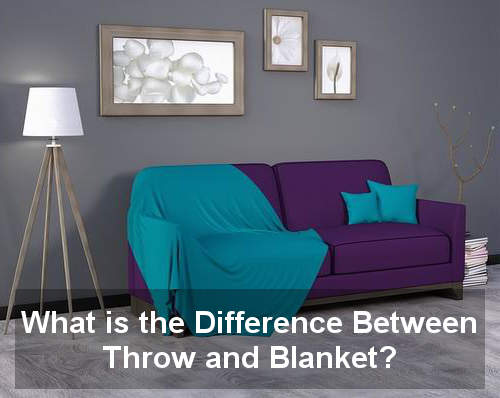 Is a Bed Cover Necessary in Summer?
Hot summer months are ahead. The wet April and May went by. So, how to ensure the necessary sleeping comfort? Here, in Texas, it's not easy. Occasional rains don't help. In June, they still bring some coolness. July and August are really hot.
Hot weather may affect your sleep. According to research from Harvard University, it can even lead to worse exam results. Are you a hot sleeper? A recent survey shows that 80% of people are. Therefore, the best summer blanket is lightweight and breathable. It can be even cooling.
Meanwhile, bed or sofa cover is necessary not only for warming purposes. It's essential for the:
bed protection;
room decoration;
your comfort.
When not in use, your bed or sofa is to be covered. It's aesthetically beneficial. A cover camouflages all signs of tear and wear. It protects the couch from dirt and dust. Meanwhile, which one is better for your purpose?
Blanket Definition
Well, I don't mean the town that is called "Blanket". By the way, it's not far from my native land, Red Oak City. The distance is about 170 miles. The human settlement is extremely small. Only about 400 people live there. The area is about 0.62 sq. mi.
The blanket that is a bedding accessory is not small. Commonly, the piece of fabric is:
Blankets are aimed at beds. An accessory is to cover the mattress. It can be tucked under it or draped on the sides. Meanwhile, coverings allow warmth. They are produced from woven fabric, single layer, but not too colorful.
So, the best blankets for winter are thick and soft. They are produced from wool, flannel or cotton. Blends with synthetic fibers are also acceptable. Polyester or nylon can be added to improve the blanket durability. They keep the weight down.
What is the Difference between Blanket and Comforter?
Both types of bedding accessories are designed to warm you. They also offer you some security while sleeping. Which ones are thicker? Which bed cover provides more warmth? Quite naturally, comforters are great for winter. They feature two layers of insulating material.
Blankets are thinner. They are easier to store. In summer, it's a great benefit. Additionally, they don't trap as much dust as comforters do. Due to the open-weave texture, blankets are safer for allergy sufferers.
What is the softest comforter material? Quite naturally, cotton is preferable for summer. Sweating is prevented. The comforter keeps you cool. It wicks moisture away. You feel comfy all night through.
What is a Throw?
Are you looking for the beautiful décor elements? Throws are what you need. As a matter of fact, blankets are commonly not displayed. They remain inside, under the coverings. The accessories are used as covers. They are comfortable to sleep with. For example, the best cotton blanket is quite suitable for summer. It's airy, lightweight and soft. The bedding accessories are preferable for summer sleep.
Throws can be found everywhere in your house. In comparison with blankets, they are:
smaller by size;
attractive;
sophisticated.
They are designed to cover couches, chairs, baby beds, etc. When it goes about a sofa, the common size is 50*60 inches.
Why is a Blanket Called a Throw?
So, throws are decorative. They are used to embellish your house. Therefore, bright and colorful options are popular. They are chosen for patterns and colors to accent the room furniture. Luxury fabrics like velvet, chenille or suede are typical. On the contrary, plush blanket meaning implies softness and comfort. The accessories made of fleece or cotton are designed to keep you warm.
Additionally, two-sided throws are backed. Brocade or satin is inside. Meanwhile, the coverings are reversible. They are versatile and protective. A moisture barrier may be available.
What about the names mix? Blankets are really called throws or afghans in the USA. Afghan is a knitted or crocheted cover. Afghan blanket knitting pattern and finish might be very similar to the one a throw has. The coverings' look and design are resembling.
Sizing Issues
What is a lap blanket? The covering differs by size. Its dimensions are about 40*50 inches. A lap-sided afghan is called lapghan. Throw blanket is a bit smaller than a normal blanket. Let's figure out the difference in sizes.
| Covering Type | Dimensions, in. |
| --- | --- |
| Blanket | from twin (66*90) to king-size (108*100) |
| Throw | 50*60 |
| Lap blanket | 40*50 |
| Lapghan | 36*48 |
| Baby-sized afghans | 30*36 |
| Throw blanket | 36*60 |
Quite naturally, throw blankets differ from the common ones not only by size. They are distinguishable. The covers stand out by fringed edges. They look original. So, a throw blanket can be dropped across a sofa or an armchair rather than accentuate a bed.
How to Choose a Throw Blanket?
The cover would be definitely a perfect buy. It adds a final touch to your room. The look changes significantly and immediately. Quite naturally, a throw blanket is selected for a certain couch or sofa. It is to match the dimensions. The room design is to be taken into account.
What are the other considerations? Don't forget to think about the:
Style.
Color.
Texture.
Materials.
Warmth.
Climate might be decisive in some cases. Woolen throws are preferable for winter. They would be appropriate in northern states. Cotton is the best for southern localities. The fabric is versatile and organic. It's great for the people that suffer from allergy.
Do you understand the difference between fleece and sherpa? Both fabrics are commonly made of polyester. However, sherpa looks like a faux sheepskin. It stands out by a longer pile. It is thicker. Fleece is fluffy and smooth. The other materials include silk, polyester, chenille, linen.
How to Use a Throw Blanket on a Bed?
It's not a kind of common use. However, it's possible. It lets you create a room design you like. Which look do you prefer: casual or neat? Therefore, the throw can be:
draped on a corner;
rumpled;
folded;
rolled.
The blanket can be left out in a mess. It would look carefree and inviting. If you prefer an accurate look, keep it in order. Just fold the throw blanket neatly. It can be draped across the bed. It depends on the bedroom style. You may wish to display the blanket or just lay it over the bed.
General Impression
Now you know, what is a fleece throw. Selection of the materials can become crucial. Just understand which fabric is natural, which one is synthetic. Warmth and thickness are important to follow the application. The other parameters are subjective. Measure the bed or sofa dimensions, that's all. I am sure you know which colors you like. Can you forget about your personal preferences? It's impossible. So, apply your imagination and enjoy your new room design.
Video Example: Decorative Bedding Ideas