Are you at home? Just look around. What about your sheets? Do you think all of them are made of cotton? Why? Because of the soft feel? I am sure, most of your bedding accessories are microfiber. So, what is a good thread count for microfiber sheets? Let's discuss their quality and thickness.
Selecting the bedding sets, we put comfort before all else. We spend multiple hours a night between the sheets. Lazy days can happen, as well. Therefore, our health is always primary. The best sheets for night sweats are to be pleasant to touch and non-toxic. Can microfiber bedding meet these demands? Why not?
What is Microfiber?
Microfiber is an artificial material. Is it a drawback? Maybe, it was in the 1970s. When the fabric was invented, it was still imperfect, coarse. Meanwhile, it's the textile, that is:
man-made;
strong;
absorbent;
tightly woven;
extra fine.
Actually, microfiber is made of polyester or nylon. It's based on the petroleum byproducts. What a terrible thing! However, is it gentle to sensitive skin? The top-quality fabric is. Modern technologies are fantastic! Additionally, the fibers' surface area is large. It's about 4 times more than of the cotton cloth. Microfiber absorbs moisture, but don't get wet. So, is these sheets' material good?
Microfiber Sheets: Pros and Cons
Microfiber is famous for its durability. It's easy to clean. Just place it into a washing machine. Select the low temperature (about 85°F). Machine drying is possible. However, it's commonly not necessary. The synthetic bedding dries fast. It doesn't wrinkle. Ironing is needless.
The other astonishing microfiber sheets' benefits include:
stain-resistance;
colorfastness;
lightweight;
silky feel;
minimal cross-contamination;
great adaptability.
What are the best sheets for night sweats? I guess, they should be lightweight and cool. The microfiber fabric is thinner than silk. It feels really soft. Meanwhile, the sheets are quite breathable. So, are there any problems?
Signs of low-grade microfiber fabric
flammable;
prone to shrinkage;
fading;
static.
If you wash the sheets in hot water, they might shrink. The acceptable temperature is specified for every bedding set. Follow the right care techniques.
The microfiber might cling to your skin. It conducts electricity better than natural fabrics. However, it might rather happen in winter. When it's cold and the air is dry, it worsens the situation. I guess maybe because of the heating issues. And not with the bedding accessories. These properties are acceptable for the cleaning stuff. Even the clothing problems of this kind may be experienced. The highest thread count sheets are much better. At least the ones I've seen and tested, don't cling.
Pilling on microfiber sheets is less probable than on the cotton ones. This issue is typical to the low-thread fabrics.
Bed Sheet Material Comparison
The most common bedding set materials are:
cotton;
flannel;
silk;
microfiber;
bamboo;
linen.
Cotton is considered to be the softest and the most breathable fabric. It's natural. Cotton is great in terms of temperature control. It can keep your body heat in winter. Yes, it wicks moisture. But it gets wet. Additionally, only the chemical-free bed sheets are green and healthy.
Flannel is fluffy cotton. It's recommended for cold winter nights. Additionally, this material is acceptable for baby care.
Silk is luxurious and cool. It's natural and comfortable. However, silk sheets are delicate and expensive. They are suitable only for special occasions, like a wedding night.
Linen and bamboo are great, moisture-absorbing fabrics. But the surface of the sheets may be a bit robust. They are thick and require delicate care.
Microfiber is the finest and the most lightweight. Is it green? I don't think so. Microfiber sheets are nor biodegradable, neither recyclable. So, are these bedding sets a worthy choice?
Are Microfiber Sheets Safe!?
Quite naturally, they are not for your infants. Only the natural materials are to be used in this tender age. However, only the lowest-quality textile is toxic or flammable. Nowadays manufacturing processes let make the microfiber completely safe and comfortable. As soon as your kid is about 5, you can securely use the sheets. These bedding accessories are even recommended when your child is mischievous. The sheets can be washed every day. Any stains remove.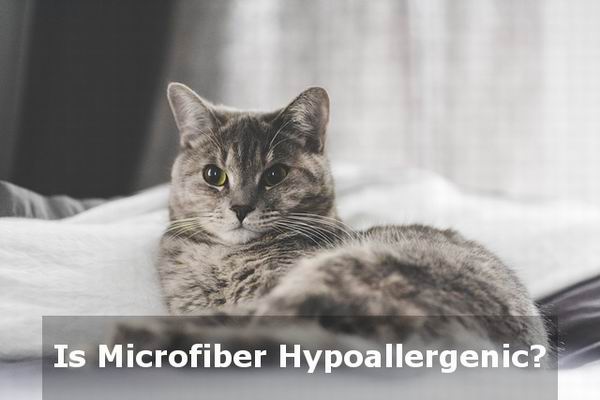 Is Microfiber Hypoallergenic?
Yes, it is. Bacteria can hardly grow in this fabric. It dries fast. Microfiber contains polyester that is mildew-resistant. Additionally, microfiber sheets are impenetrable for dust mites. They commonly live in pillows and mattresses. Microfiber is a kind of shield from them. The sheets just are to be clean and top-quality.
Thread Count Chart for Sheets
When it goes about the bedding sets' quality, the weave and the thread count matters. This number is indicative of the yarn fineness and density. The higher the count, the higher is the sheets' quality. Quite naturally, it' directly related to the bedding cost. But it's not the most important. The fiber diameter that is less than 1 denier can be even finer. Therefore, the high-count, for example, 5000 thread count, sheets are really soft and breathable. They are luxurious. However, the highest sheets' quality is really uncommon.
How to Calculate Thread Count
Gsm stands for the given fabric weight. It's measured in grams per sq.m. Gsm to thread count conversion is a bit complicated. It's possible to convert inches to cm, but not threads to grams. It depends on the brand and the threads' thickness.
| Rate | Thread count | GSM |
| --- | --- | --- |
| Low | 400-800 | 80-120 |
| Medium | 1000-1200 | 80-120 |
| High | more than 1500 | 80-120 |
Thus, the more threads are interweaved, the more durable is fabric. However, this standard is commonly applied to cotton bedding. For example, 800 thread count sheets are quite soft and luxurious. Microfiber fabric weight is commonly measured in g/m2. These sheets are more lightweight and thinner. Microfiber towels are usually rated at 320-350 gsm.
How to Keep Microfiber Sheets on the Bed?
Microfiber fabric is more elastic than cotton or silk. Therefore, the question arises. Do the sheets fit your bed size? After all, they should not slip. You can use stretchy straps or bands to secure them. However, top-quality sheets come with deep pockets to avoid these issues.
Final Verdict
So, microfiber sheets are a good choice. They are lightweight, durable and stain-resistant. Meanwhile, their gsm parameters speak for their weight, not the quality. Thread count parameters are more impressive. Nevertheless, modern, top-quality microfiber bedding is good for summer. It feels cool. Additionally, it's hard-wearing and stain-resistant.