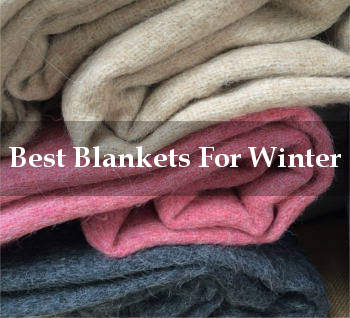 Winter is a season when you feel cold even with the heating on – snow and frost behind the window make your body search warmth and winter blankets are ones of the ways to get it on a cold freezing day. That is the reason to find the one out of the best blankets for winter and get a comfortable sleep at night.
How to choose warm blankets not to get cold in winter?
What makes the good type of blanket for winter? Of course, it is a capability to keep body temperature. And let a person sleeping under it feel comfortable and cozy. At the same time, such a blanket must breathe as sometimes heating is so powerful that a heavy warm blanket will make your night sleep unbearable. Consequently, when you choose one of the best winter blankets, you should consider the average temperature in your home in winter, your sleeping preferences and blanket characteristics. It will help you to choose the most suitable example from top 6 offered below.
Which One Top Blankets For Winter in 2022
Image
Product
#1. Utopia bedding


Sizes - Twin, queen, king
Color - Black, white, beige
Material - Cotton
Breathable - Yes
Dobby Weave

Editor's Choice


Check Price


Read Our Review
#2. Poyet Motte Made In France


Sizes - Twin, queen/full, king
Color - Doe/natural, blue/
Lt blue, grey/
Lt grey, maise/natural
Material - Wool
Reversible - Yes

Check Price


Read Our Review
#3. Pendleton Wool Blanket


Sizes - Twin, queen, king
Color - 18 color combinations
Material - Wool

Check Price


Read Our Review
#4. YnM Weighted Blanket


Sizes - 14 sizes
From 36 × 48 inches to 80 × 87 inches
Color - 22 color combinations
Material - Cotton and glass beads

Check Price


Read Our Review
#5. Genteele Sherpa Throw


Sizes - 7 sizes: queen, king
40" X 50"/50" X 60"/60" X 70"
Color - 10 color combinations
Material - Microfiber
Reversible - Yes

Check Price


Read Our Review
#6. Gavotte Home Throw Blanket


Sizes - Travel, twin,
queen and king
Color - Gray/ivory, dark blue/
ivory, dark gray/ ivory
Material - High-quality polyester
Reversible - Yes

Check Price


Read Our Review
#7. Byourbed Coma Inducer


Sizes - King 112 x 98 inches
Color - Charcoal gray
Material - High-quality polyester
Reversible - Yes

Check Price


Read Our Review
1. Utopia bedding 100% Woven Cotton – One of the Super Thermal Blankets

To feel warm when it is chilly both at home and outside, you need to get a nice thermal blanket. Utopia brand offers great thermal winter blankets that can be used as a throw blanket or quilt on the bed, sofa or couch.
Cotton blankets for winter of this manufacturer are lightweight and breathable, so you can use them not only in winter but also all year round. Made of 100% cotton the blanket is thick and tightly woven. It is low in shedding and remains soft for a long period of time.
Ring spun cotton is a perfect material free of toxic particles and suitable for allergic people. It helps to regulate body temperature and has an ergonomic design to store it easily.
The winter blankets have a dobby weave design adorned with waffle square patterns. This model is available in two colors: black and white, and three different sizes: twin, king, and queen. It may seem to somebody that the blanket is oversized, but it is subjected to natural shrinkage and will get a suitable size over time.
Interesting Features
Care instructions of these warm blankets are not rather strict. They can be washed and dried and as natural cotton releases dirt easily, you do not need to use some harsh detergents.
The average weight of the blanket is about 5 pounds.
Pros
Made of natural material;
Breathable;
Versatile;
Beautiful design;
Suitable for all seasons;
Keep the body temperature;
Durable;
Easy to care about.
Cons
Subjected to natural shrinking.
Verdict
Even a blanket must be attractive so Utopia bedding is a perfect example of a beautiful quilt. Available in two colors and three different sizes, this blanket will be a nice adornment of your home and will keep you warm in any season. Get this premium blanket and enjoy its highest quality and warmth.

2. Poyet Motte 500GSM Heavyweight 100% Wool – An Example of the Effective Warm Soft Blankets

There is no sense to doubt when you choose warm blankets produced by the world's leading manufacturer. Poyet Motte is a French company that has produced 100% woolen products since 1839. Today it has not violated its traditions and offers high-quality woolen products worth your trust.
The winter blankets from this brand are made of unique 33-micron/ 500 GSM of virgin wool that makes it extremely warm and durable. Wool is a natural insulator that absorbs all the moisture and prevents you from getting cold. Moreover, with its antibacterial properties, it is safe for people suffering from allergies and sensitive personalities. These warm blankets differ from others due to an exclusive weaving process for them to be tight, warm and have an anti-pilling finish. It also allows achieving unique color combinations in the winter blankets of this model. They are sold in the following color combinations: Doe/natural, blue/Lt blue, grey/ Lt grey, maise/natural.
Interesting characteristics
These warm blankets are rather thick and heavyweight so you will feel their warmth even on the coldest days. In addition, there is a satin binding with a double stitch on the edges of the blankets for an additional strength and careful look.
The winter blankets are sold in three different sizes – twin, queen and king – and are easy to take care of. You can wash them in the washing machine in cold water and use line dry. The highest quality of the product is confirmed by the Woolmark license. The total weight is 4.7 pounds.
Pros
Made from natural wool;
Thick;
Keeps body temperature;
Long-lasting;
Easy to care about;
Premium quality;
Lightweight.
Cons
You may feel itchy if you cover your body with it.
Verdict
Natural materials have been always valued by people, so this woolen example of thick warm blankets for winter is worth your attention. If you need a really warm and solidly-woven product, these French winter blankets are perfect. With a nice design, premium quality and ease of care they will make you feel cozy and warm every winter night.

3. Pendleton Eco-Wise Wool – One of the Better Blankets for winter in India and Other Equatorial Countries

If you are a fan of more standard solutions and colors, Pendleton winter blankets are a perfect choice for you. They are thin and lightweight, but have excellent characteristics and keep the body comfortable temperature even on cold nights.
Pendleton winter blankets are produced in the USA. They are made of 100% pure virgin wool so they are very soft, warm and long-lasting. The blankets are sold in 9 different colors. Most of them are pastel ones and will look wonderful in any interior. They have whipstitched edges with the matching yarn to keep its form for a longer period of time.
Interesting Information
These warm blankets are produced in three different sizes: twin, queen, and king. They are easy to take care of as they are washable in the washing machine and environmentally friendly.
The following winter blankets are extremely lightweight – only 1 pound.
Pros
Keep the body temperature;
Lightweight;
Produced in the USA;
Durable;
Safe for washing machines;
Breathable;
Practical;
Amazing quality.
Verdict
Many people are tired of heavy winter blankets so there is no better example of cool winter blankets than natural woolen Pendleton ones. Despite their simple but elegant design they keep you warm and are extremely lightweight, so you can use them both at home and during travels.

4. YnM Weighted Blanket – Superb Winter Blanket for Toddler and Adults

Do you have problems with night sleep? Forget about insomnia, stress, and anxiety with these wonderful YnM blankets. They are produced in different sizes and weight so you can choose perfect winter blankets especially for you. The sizes of these warm blankets range between 36 × 48 inches making it one of the best baby blankets for winter and 80 × 87 inches to cover a huge king bed. One more unique feature of these winter blankets is their choice of weight. It is considered that a good blanket should weigh about 10% of the person's body weight, so you can look through the models of the same size but different weight to get the most suitable one.
YuM winter weight blankets are produced in 18 different color combinations to find a perfect model both for a child and adult. All of them are made of high-quality breathable cotton where every square compartment is filled with tiny glass beads. They have no smell and are non-toxic so can be used by people suffering from allergies. The beads are very quiet and do not make noise if you move the blanket.
Features and Specifications
It is possible to wash a weighted inner layer in the washing machine, but you had better prefer dry clean. Therefore, it is better to use a removable duvet cover.
The weighted winter blankets are rather heavy. It was designed specifically for people who have troubles with sleeping. Such a blanket creates a feeling of being hugged or held and it soothes your nerves and helps to fall asleep faster. A queen size blanket, for example, can be bought with the weight ranging between 15 and 22 lbs.
Pros
The content is distributed evenly;
Great for eliminating stresses and having a good sleep;
High-quality;
Breathable;
Produced in a variety of colors, sizes, and weight;
Keep the body temperature;
Comfortable;
Silent.
Verdict
A good sleep is a key to success in many situations, so getting one of the perfect winter blankets that are both breathable and hugging will help you to feel confident and sleep well at night. Natural cotton fabrics and unique glass beads produce a unique soothing effect and make you feel warm in any weather conditions.
Here can see still more information about best weighted blankets!
5. Genteele Super Soft Luxurious – An Example of the Most Soft Warm Throw Blanket

If you agree that warm winter blankets should be also soft, this Genteele throw model will be appreciated by you undoubtedly. Made of high-quality microfiber this reversible blanket has a cashmere velvet of bright color on one side and a plush faux-sheepskin cover on the other side.
Every model of these Sherpa warm blankets is double-sided, so their design is predominantly a combination of white and another bright color of 6 popular shades.
Moreover, the blankets are available in two different sizes:
50 × 60 inches
60 × 70 inches
They are a perfect gift both to give kids and adults and will look elegant in any room.
These winter blankets are very easy to care about. You can put the blanket to the washing machine and set a gentle or delicate cycle, while drying can be only air, line or low heat.
Useful information
Microfiber is the best material for winter blankets as it is extremely soft, washable, durable and lightweight. In addition, it is warm and hypoallergenic, so every person would be happy to get a microfiber blanket as a gift. You even do not need to wrap it as it is sold tied with a ribbon and a gift card. Forget about pilling, fading or wrinkling as these high-quality winter blankets are designed and sewn by experts. Elegant and breathable, it weighs about 3.5 pounds depending on the size.
Pros
Excellent quality;
Long-lasting;
Reversible;
Washable;
Presented as a gift;
Keep the body temperature;
Breathable;
Versatile.
Cons
May shrink if wash not in the cold water.
Verdict
One of the top-rated winter blankets this Genteele model is one of the warmest blankets for bed and couch. It has a nice appealing design being both reversible and very soft. This blanket makes every touch to your body a real pleasure as nothing can be compared with a high-quality cashmere velvet and faux sheepskin. This blanket is luxurious in all its characteristics.

6. Gavotte Home Soft Fleece Throw Blanket – Good Lightweight Blanket for Winter

For people, who always doubt what color of winter blankets to choose, this Dream Fly model will be a nice surprise. This great blanket is made of 460 GSM high-density polyester fabric and has a double-side design. One of the few reversible winter blankets each side of this example has absolutely different colors. You can choose a combination of ivory and gray, ivory and dark gray and ivory and dark blue. All colors are bright and look wonderful in combination with an ultra-soft fleece texture.
There are many other reasons to choose these winter blankets too. The material they are made of is very soft, durable and lightweight. It will not shed, fade, pill or get wrinkled, so you can take it with anywhere you go or for everyday sleep. In addition, it has an anti-static effect reducing static by 90%.
Warm blankets by Dream Fly are produced in 4 different sizes. You can choose among:
Travel/throw size (50 × 61 inches);
Twin size (66 × 90 inches);
Queen size (90 × 90 inches);
King size (90 × 108 inches).
As a result, you get a super comfortable, soft and cozy blanket with strengthened stitches on the edges and ease of care. The fleece winter blankets can be washed in the washing machine on cold and withstand air dry easily. Moreover, when they dry out they look absolutely marvelous like new ones.
Additional information
The manufacturer also offers a money back guarantee for everyone who has not been satisfied with the product received. The total weight of each of warm blankets does not exceed 6.5 pounds.
Pros
Very soft;
Keeps the body temperature;
Double-side design;
Lightweight;
Anti-static;
Easy to care;
Long-lasting.
Cons
Does not stay put and moves off you if you turn.
Verdict
What makes blankets best for winter? Of course, these are such characteristics as warmth and little weight. The following warm blankets from Dream Fly possess not only these but also many other beneficial features. They are fuzzy, anti-static, easy to clean and good-looking. Such winter blankets can be used for a variety of purposes and will be a nice gift to everyone.

7. Byourbed Coma Inducer – An extra-warm plush comforter for chilly nights

Cold weather induces us not only to take out warmer comforters but also to switch to warmer textures. Cotton-shelled comforters are great, but the crisp sensation they give might not be exactly what you want. This wonderful comforter from Byourbed is not only warm but also very cozy and comforting thanks to its velvety surface.
All parts of the comforter are made of quality polyester. The surface material has a chic vibe to it, so the comforter can serve as an elegant bed decoration without any additional elements. Deep charcoal hue is neither too boring nor too extravagant. Besides, it is very likely to work with any bedroom decor.
According to the care instructions, this product must be washed in a commercial-capacity machine. That means you will most probably have to take it to the laundry place to get washed, which might be rather inconvenient. But considering that this is a one-season comforter, you are not likely to be doing it more than once a year.
Useful features
100% polyester.
Available in charcoal gray.
Machine washable.
King size.
Pros
Exceptionally soft and cozy shell fabric.
The dark color does not show stains easily.
Just the right thickness for wintertime.
Cons
Only available in one color.
Can only fit into a commercial-size washing machine.
Verdict
If you are pursuing the ultimate comfort and warmth during winter, this product can satisfy your needs to their fullest. It is rather thick and puffy, but not too heavy. The color and texture enhance the sensation of comfort. Although it is unlikely to get stained under normal use, it does need to be washed at a public facility every now and then.

How to Choose Winter Blankets: Buyer's Guide
Most of the winter evenings and nights make us look for warmth and a cozy place to cuddle up. There is hardly any better time than sitting on your soft sofa and covering with a warm blanket in winter. The last one plays a very significant role as its main role is to make the atmosphere and feelings really warm. However, not all winter blankets cope with this task successfully. That is the reason to consider several features to get perfect winter blankets for beds without much effort.
Types of blankets for winter
Warm blankets can be of different types depending on the purpose they are obtained. These can be blankets to use on beds, sofas, couches, traveling etc.
Material
Modern warm blankets are made of different materials. The most popular ones are wool, cotton, microfiber, polyester etc. However, there are some innovative materials used too.
Reversibility
Many winter blankets can be used only from one side, while there are also reversible examples to choose the side depending on your mood, preferences, and situation.
Washing machine safety
It is very important to be able to clean warm blankets. They absorb moisture very quickly and require regular cleaning, so it is more comfortable to use a washing machine for this purpose.
Conclusion: Best Blankets For Winter
Winter blankets are a necessity in every home. Of course, warm blankets may differ depending on the country you live in as winters can be very hot sometimes, size, design, material, but you should get the top winter blanket from ones offered above to enjoy cold winter nights in the warm and cozy environment.