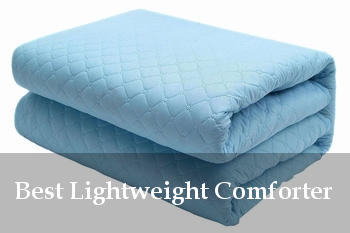 Finding the best lightweight comforter is important for those who live in mild climates and tend to get hot in their sleep. A thin lightweight comforter allows you to feel snug and warm without being weighed down and restricted. The best ones are, of course, lightweight white goose down comforters. However, they are rather expensive and demanding in terms of care. Besides, some people tend to be allergic to natural goose down and feathers, so having a comforter with such fill is not a healthy choice for them.
Which One Top Lightweight Comforter in 2019
1. Chezmoi Collection – The Light Warmth Down Alternative Comforter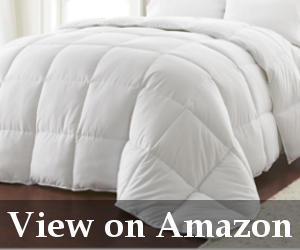 This lightweight comforter of Chezmoi Collection is made of 100% polyester. Unlike the real goose down, the polyester fill is hypoallergenic, but at the same time it is quite fluffy and has decent insulating properties. The comforter is lightweight and rather warm, but not too hot. Depending on your personal temperature perception, you can use it during either warm or cold seasons. In combination with a duvet cover and a blanket, it will provide comfort and warmth even during cold winter nights.
The comforter is designed to be conveniently used with a duvet cover. It has corner loops to which the cover with inner ties can be attached. Piped edges help the comforter stay aligned with the sides of the duvet cover. The fill is secured in place by double-needle box stitching.
This product is machine washable. It can either be air dried or tumbled on low to regain its fluffiness.
Useful accessories
Lightweight.
Polyester shell and fill.
Box stitching.
Corner loops and piped edges.
Pros
Lightweight, but warm at the same time.
Hypoallergenic fill.
Has loops on corners and rigid edges that help it stay in place inside a duvet cover.
Cons
Does not have as much loft as similar comforters.
Polyester shell has a slight sheen and looks somewhat cheap, so this comforter should better be used with a duvet cover.
Verdict
The Chezmoi collection lightweight comforter is a perfect option for the summer and warm winter. Its thoughtful design allows it to be properly secured inside a duvet cover so that you will not have to rearrange it after each night. It can be used independently, but it won't look classy or have a comfy feel.
2. ienjoy Home 1500 Series – Down Comforter for Hot Sleepers. Summer Weight Down Comforter (Queen, King, Twin)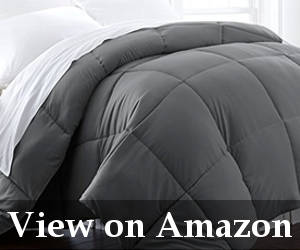 This is a 100% microfiber down alternative comforter. It is rather thin and lightweight, perfect for summer, late spring, and early fall. Its simple design features durable box stitching that keeps the fill in place even after many washes. The item is available in six colors: white, gray, taupe, brown, dark blue and khaki.
This lightweight comforter provides snugness and comfort without loading too much weight on you. It is great even for hot sleepers since it won't cause excessive sweating. The comforter is machine washable and can be dried in a tumble dryer on a low cycle.
Interesting features
100% microfiber
Box stitching.
Available in six colors.
Thin and lightweight.
Pros
Rather lightweight. Perfect for warm weather and for people who tend to get hot while sleeping.
You can choose one of the six natural colors to match your bedroom design.
Exceptionally soft fabric.
Cons
Does not have corner tabs.
Verdict
This is a thin lightweight down comforter for summer, warm spring and fall. Perhaps, this is the best down comforter for hot sleepers. It is available in six different colors to style up your bedroom according to your taste. This comforter can be used as a duvet cover insert, but since there are no corner tabs, it will shift inside a cover causing inconvenience.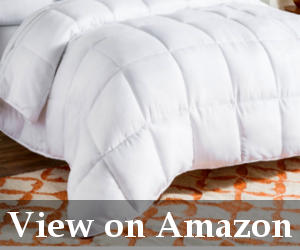 Linenspa offers a reversible quilted comforter with microfiber fill. The comforter is available in five color schemes (including plain white) to match the design and mood of every bedroom. It can be used both independently and in combination with a duvet cover. There are eight tabs (in the corners and one on each side) which can be used to secure a comforter inside a duvet cover to avoid shifting and twisting.
A microfiber fabric used in this comforter is a little shiny, but quite pleasant to the touch. The comforter is of medium thickness. It can help you stay warm fall through spring but will be too hot to sleep under in the summer.
While being rather on the light side, this comforter provides a snug and comfy sleeping experience.
Interesting benefits
Microfiber shell and fill.
Box stitching.
Eight corner and side tabs.
Medium thickness.
Pros
Available in several two-sided designs offering you a broader spectrum of choice.
Has eight loops for securing a duvet cover, while most down comforters have only four if any.
Backed by a three-year warranty.
Cons
The fabric wrinkles very easily.
Verdict
The Linenspa lightweight comforter is the one you might want to crawl under during mild winter, spring and fall. It is neither thick, nor heavy, but yet somewhat hot for the summer. It can serve as a great insert, but if used independently it will give your bed a messy look since the fabric tends to wrinkle very easily.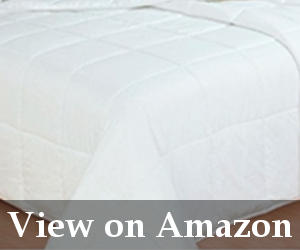 This is an extremely lightweight comforter. It has only 34 ounces of weight in king size, so you should not get hot under it during warm summer nights. Also, if you prefer to make your bed tucking the blankets under the mattress, this lightweight comforter will suit your bed-making style.
The comforter is made of 100% synthetic (polyester) fill and microfiber shell. It is easy to maintain, it does not have to undergo any special treatment. Being not too fluffy, this lightweight comforter can fit into any washing and drying machine.
Additional accessories
Embossed microfiber shell.
Polyester fill.
Box stitching.
Extra lightweight.
Pros
Very lightweight and suitable even for warm nights.
Has eight loops for securing a duvet cover.
Easy to maintain.
Cons
Too thin and does not look like a statement piece on a bed.
Not suitable for wintertime.
Verdict
This is an ultra-thin and the lightest weight down comforter for summer. It folds very compactly and does not take too much space in a closet. This is important since in most cases it will have to be put away for the winter.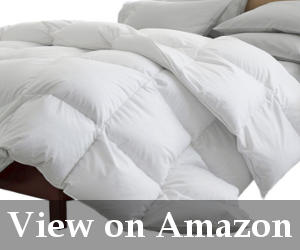 This is a plain white medium-weight comforter designed for all-year-round use. The shell is made of soft breathable microfiber and filled with synthetic material. Microfiber fabric is soothing to the touch, rustle-free and wrinkle-resistant. Double-needle box stitching prevents the fill from migrating inside the shell. This comforter will perfectly match white bedding or can be used as an insert with any duvet cover.
The item is machine washable and can be dried in a tumble dry on low. It is advisable to wash it on a gentle cycle without bleach or other aggressive detergents.
Interesting information – Top Summer Weight Down Comforter
Medium weight.
Microfiber shell.
Hypoallergenic polyester fill.
Box stitching.
Pros
Soft, breathable shell.
Machine washable.
Cons
The shell is rather delicate and requires extra gentle care.
Somewhat hot for the summer.
Verdict
The Superior down alternative comforter is a classic style medium-weight comforter. It will come in handy during chilly nights all year round. It's very soft and delicate to the touch, which is a pro and a con at the same time (the fabric will not hold up to rough handling).
A Concise Buyer's Guide to Choosing the Top Down Comforter for Warm Climates
So what is the top down comforter for allergies? Quality goose down alternative fill is hypoallergenic, hygienic, and feels just as comfy as its natural analog. In terms of fluffiness and heat retention, such comforters can boast excellent characteristics. And last but not least, a comforter with high-quality synthetic fill is usually lighter than the same comforter with natural fill.
As you can see, getting a lightweight down alternative comforter is quite a reasonable decision. Just like with any other product it is important to know characteristics that define a great lightweight comforter. Now let's review better lightweight comforters from today's pick.
The market of down and down alternative lightweight comforters offer such a wide array of choices that it is quite easy to get lost among them. At a first glance, all the comforters seem the same.  Let's find this out.
What is the better type of down comforters?
First of all, the comforter should fit your bed properly. A good comforter is supposed to hang somewhat below the mattress (or even all the way to the floor if you are pursuing a more sophisticated look). If you have a thick mattress or simply not sure about the size of it, you should always buy a comforter one size up (e. g., if you have a queen bed a king-size comforter will be the right choice).
If you want to buy an all-seasons best lightweight comforter, you should lean toward a thinner one with all other things being equal. In case you get cold during a chilly night, you can always add a blanket, but if your comforter turns out too hot for the summer, you will have to get another one.
Think about how you are going to use your down comforter: with a duvet cover or as a single piece. In a letter case, you should opt for a comforter with high-quality fabric that will not pill or pick up lint. The fabric should also be pleasant to the touch, antistatic and not too noisy. Needless to say, the color of the comforter should go along with bedroom design. Alternatively, if you prefer to use a down comforter as an insert, you should choose the one with corner loops, to which duvet cover can be tied down. Of course, you can make them by yourself, but if you are not much into sewing, getting a ready-made product would be preferable. The best color for a duvet insert is plain white. It will not show through a cover and interfere with the design.
How to choose a down comforter?
A quality down comforter should have evenly distributed fill, a dense shell that will safely keep the fill inside and strong stitching and hemming. Most comforters are stitched through in quilt-like style so that the fill stays in its place and does not shuffle during washing and tumble drying. To keep you comfortably warm (as opposed to stifling hot) the best light warmth down comforter should be made of breathable fabric. Ideally, the shell should be made of cotton, but high-quality polyester (microfiber) is also acceptable.
Does lightweight mean that the down comforter is not warm?
Some people tend to believe that thin lightweight comforters are not warm and are only good for summertime. In fact, everything depends on the type of fill used in each particular case. There are materials that allow the manufacturers to produce thin lightweight comforters that will keep you warm even when the temperature outside drops very low.
Conclusion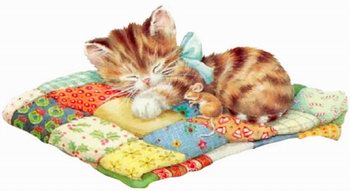 Living in a warm climate does not mean you have to deny yourself a pleasure of crawling under a puffy blanket for a sound night sleep. Today we can enjoy plentiful options of lightweight comforters for every style and budget. The most important thing is to choose the one that will satisfy your needs. Hopefully, this product review and buyer's guide will help you make a deliberate choice. There is no need to compromise – stylish, comfy and affordable lightweight comforters are out there and you will definitely find the one that is perfect for you.