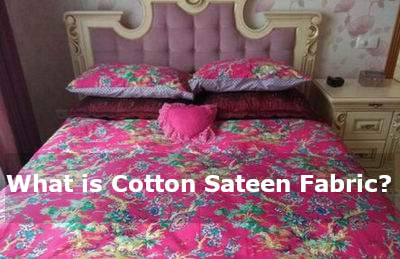 Do you live in a state with a humid, subtropical climate? If it's hot like in Texas, you would prefer lightweight, natural clothing and cotton sateen sheets. They tend to remain cool, especially when your A/C is on. What is cotton sateen fabric used for? I am sure the answer is evident to you. Let's discuss pros and cons of the material. How to select comfortable and top-quality bedding accessories? I'll try to clear up the matter.
What is Cotton Sateen Material?
Are you a sybarite? I think I am. Whenever you are dedicated to pleasure and luxury or not, you would appreciate comfortable bedding. Best sateen sheets are top-quality, pleasant to touch. This fabric is:
breathable;
stretchy;
smooth;
durable;
It comes with luster, resembling satin. Due to diagonal weave effect, these sheets are luxurious and wear-resistant. Additionally, they are stain-resistant, due to special finishing.
Apparel and bedding, made of cotton sateen fabric are commonly expensive. What is 100% cotton sateen fabric? It can be compared only to Egyptian cotton by quality, look and feel. Cotton sateen is only a bit cozier and heavier. However, it depends on the thread count.
Here can see still more information about best sateen sheets!
Heavy-Duty Cotton Thread
| Thread Count | Weight, oz./sq. yd. | Fabric | Properties |
| --- | --- | --- | --- |
| 150-180 | 3-3.5 | Percale | Fine and matte-finish |
| 180-500 | 4-4.5 | Sateen | Soft and silky |
| 500-1200 | 3-4 | Egyptian cotton | Luxury, soft and lustrous |
What is considered to be the softest sheets thread count? A higher number speaks for better sheets quality. When more filling and horizontal threads are applied, it means they are thinner. Therefore, high thread count pillow-cases and sheets are thinner, softer and more tear-resistant. Meanwhile, the weave also matters.
What Does Cotton Sateen Fabric Feel Like?
Both percale and sateen garment and bedding are manufactured from cotton. Therefore, they are:
natural;
long-lasting;
wash and wear;
soft and breathable.
The fiber's best bedding sets are produced from are mainly composed of cellulose. They are strong and biodegradable. The material is prone to crystallinity and polymerization to a greater extent than rayon or wood pulp. That is, this fabric is about as strong as polyester.
Here you can see more information about best bedding sets!
Characteristics of Fibers
| Fiber | Dry Strength, g/tex | Wet Strength, g/tex |
| --- | --- | --- |
| Cotton | 27-45 | 30-54 |
| Polyester | 27-54 | 27-54 |
| Rayon (regular) | 22-27 | 10-14 |
Strength of cotton fibers, measured in grams per tex units or a bundle of threads, is affected by moisture. So, it perfectly withstands wash after wash.
Additionally, cotton fabric is used for manufacturing of the best sheets for night sweats. It's breathable, allowing perspiration, absorbing it. Cotton transfers moisture away, keeping your skin healthy and dry. It's tough and hypoallergenic.
Here can see still more information about best sheets for night sweats!
Sateen Weave vs. Percale: Which Fabric is Softer?
Commonly, sateen sheets are soft and lustrous. Percale fabric is plain-weave. It's spun and closely-woven, made of combed and carded yarns. So, these sheets are fine and soft. Quite naturally, if they stand out by high (above 180) thread count number.
Best percale sheets are:
crisp;
matte-finish;
resistant to pilling;
lightweight;
breathable.
Percale cotton is flat, granting you a relaxed, natural feel. It does not require creasing, resembling a recently ironed dress shirt. This fabric is breathable, so, it's perfect in summer. Regardless of its tight weave, the sheets give you cool sleep experience. If you are a hot sleeper, living in a warm climate state, like Texas or Florida, you would appreciate it.
Cotton sateen fabric properties are not much different. These sheets are beneficially comfortable, breathable. Sleeping on natural bedding is healthy. Your skin and hair would sense and appreciate it. The fabric is soft, wrinkle-free and hypoallergenic.
Is cotton sateen fabric shiny? It stands out by smooth, silky touch, attractive sheen or luster. So, the sheets remain cool in summer and pretty warm in winter. They are lavish-quality and durable. Additionally, sateen sheets are resistant to mildew and mold, requiring no antimicrobial treatment. They are easy to clean, fold and store.
Here you can see more information about best percale sheets!
Difference Between Sateen and Satin
Sateen fabric that stands out by its terrific luster only resembles satin. Cotton fibers are mercerized to bring sheen out. They are soaked in an acid bath and lye such as sodium hydroxide. After the treatment, cotton fabric is becoming easier to dye and stronger.
What are satin sheets made of? Various fibers might be used during its production, including silk, rayon, cotton, nylon or polyester. It's commonly synthetic. Meanwhile, satin represents a weave type or style, not the material.
It stands out by:
Warp-faced structure.
Filament fibers.
Glossy, slippery texture.
Lustrous sheen.
What does satin feel like? It's smooth and silky. This fabric is beneficially lightweight. Satin sheets are slippery, feeling great against your skin. If you use them, skin allergies together with hair breakage are beneficially prevented. Meanwhile, reduced friction is not always comfortable. Additionally, satin fabrics are not too easy to wash. They might require extra care, hand-washing or dry-cleaning.
How to Wash Cotton Sateen Weave Sheets?
Sateen fabric is weft-faced. It's made of short-staple fibers. Shine and softness of sateen might be compared to silk, but it's commonly dull. It's less smooth than satin and not so affordable.
Due to its perfect breathability, cotton sateen fabric is a brilliant choice for dressmaking. It may be bleached, printed or dyed. This material is:
color-fast;
pleasant to touch;
looking smooth and attractive;
wrinkle-resistant.
Sateen provides no chemical retention. Therefore, it benefits people that suffer from skin allergy. Additionally, floral sateen dresses and monochrome shirts require no intricate maintenance. They are machine-washable.
Therefore, cotton sateen fabric is great for quilting, bedding, comforters. Including polyester or cotton fill, they are easy to clean. Just use cold water and mild detergent. 104 °F temperature is sufficient to remove stains. Select gentle cycle. Quite naturally, air drying is preferable. Otherwise, set the drier on cool dry cycle.
General Impression and Recommendations
Are you going to select comforters or bedding accessories? Consider purchasing sheets made of natural materials. Just don't forget to study experts' and customers' cotton sateen fabric reviews. Check fabric composition and thread count. Top-quality sateen bedding is comfortable in winter too. It keeps you pretty warm, helps you to feel nice and cozy.