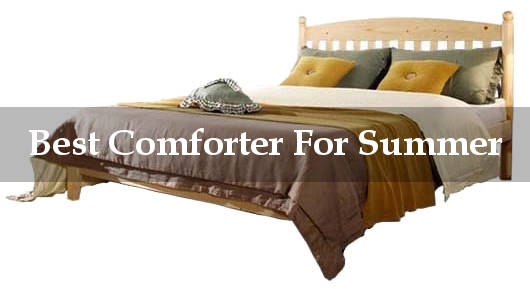 The change of seasons is a challenge for many people as they need not only to change outfits but also think what to change at home. One of such things is a blanket that must be warm in winter and cool in summer. With the advent of a hot season choose the best comforter for summer to be fully prepared for warm nights and have an excellent sleep.
See our selection of the best product!
Unfortunately, it is impossible to cover with the same blanket both in winter and summer. If you prefer a lightweight cool comforter, it will probably make you freeze in winter nights even with a perfect heating system. Your body feels the rough difference in temperatures behind the window and inside your home, so you need a warm and thick thing to keep the body temperature better.
In summer, you will sweat under such a blanket, so the only right choice is a lightweight and cool comforter that will save you from the summer heat and provide an excellent atmosphere for a good sleep.
Top Comforter for Summer in 2019
1. Chezmoi Collection Austin 3-piece – Marvelous lightweight summer blanket king size and queen size
What makes a summer comforter perfect? Of course, it is an opportunity to feel cool even in heat. However, it is not the only feature. Chezmoi Collection offers not only a simple summer blanket but also a beautiful and lightweight coverlet set. It means that your bed will always look neat and adorned if you put this wonderful bedspread on it. Moreover, there is no need to cover it with anything else as this comforter plays a role of both a decorative coverlet set and a great summer blanket.
The set consists of 3 patterned pieces: a bedspread and two shams. There are two sizes of the set: queen and king ones meant for oversized beds. The dimensions of the bedspread of queen size are 100 inches × 106 inches. The shams are 20 inches wide and 26 inches long. The king comforter is a bit larger 118 inches × 106 inches with shams of the following size: 20 inches × 36 inches.
Every piece of the set is made from lightweight and cool 100% microfiber fabric that can be washed in the washing machine, so it is undoubtedly the best comforter to stay cool. The variety of colors is also impressive: 14 trendy and bright colors to add expressivity to every bedroom.
Features and benefits
The set is perfect for three seasons: spring, summer and fall as it is also warm enough. The total weight of the set is 6.15 pounds.
Pros
Elegant;
Easy to wash;
Fast to dry;
Thin but warm;
Excellent quality;
Stamped with a pattern;
Suitable for oversized beds.
Cons
The design may come out if washed and dried incorrectly;
Might tear and shrink after several washes.
Verdict
The greatest benefits of this summer comforter are the fact this is a blanket that keeps you cool and warm. Suitable for three seasons it serves as a brilliant bed coverlet especially if accompanied by shams made of the same material. Being lightweight even oversized it can be a wonderful gift if to consider how many colors of this set are available for sale. You will not have problems with washing and drying it too as microfiber has perfect characteristics and is highly durable if washed according to the manufacturer's rules.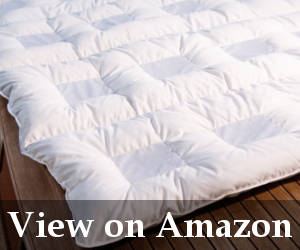 There is always a difficulty in finding a universal thing, but Climabalance brand managed to create such a product. This summer comforter has a patented brand design and multiple benefits that make it outstanding among other duvets.
The blanket can be used both as a duvet insert or a separate comforter of the highest quality. It is made from a 100% Hypoallergenic Virgin Polyester. It is incredibly soft and adjustable material that allows reducing night sweat. This hi-tech fabric is capable of transporting excessive heat and adjust the perfect temperature for sleeping. However, in cold seasons every climate zone works as a pocket that warms the cool air to the average body temperature. As a result, it helps to increase a phase of deep sleep up to 50% and it was confirmed by the German soccer team as its regeneration has improved significantly thanks to these comforters.
In addition, the hypoallergenic material is safe for people suffering from allergy or asthma.
The main problems with most comforters is a necessity to use dry cleaner's services. In this cool summer blanket, it will not be a problem as you can not only clean the comforter in the washing machine but also use rather high temperatures of 140 °F / 60 °C for better efficacy.
The summer blanket is available in a white color and two standard sizes: twin (64 inches × 88 inches) and queen (88 inches × 88 inches). The item is rather lightweight: 4.2 pounds.
Interesting features
The brand is highly proud of its products and offers a 30-day satisfaction guarantee with a full refund if somebody does not like the comforter quality.
Pros
Hypoallergenic;
Lightweight;
Box-stitched design;
An exclusive brand technology of temperature regulation;
All year round;
Soft fabric;
Guarantees cool sleep.
Cons
Advertised six may differ;
Stuffed thick parts.
Verdict
Of course, it is impossible to create a perfect product for every person but Climabalance has made a successful effort and many users do confirm that its unique temperature regulation technology works well. In addition, there is a pleasant to touch summer fabric and hypoallergenic filler as well as ease of washing at high temperature. No doubt, it is the best blanket for hot sleepers easy to care about.
Bamboo has always been considered one of the best materials for blankets, mattresses, towels etc. It combines unique properties that are not similar to any other materials. No wonder Cariloha brand has chosen bamboo for their exclusive comforter products.
Excellent for summer and all other seasons this duvet comforter, both inner and outer part, is made from 100% Viscose from bamboo. The better down alternative comforter for hot sleepers is incredibly soft and suitable for any weather. There are bamboo Viscose fibers that make the inside filling remain put for a more fluffy effect and better sleep at night. The comforter is subjected to dry clean only.
The material of the summer cool comforter repels odors and allergens being an absolutely natural fabric. Being a lightweight breathing comforter it guarantees naturally thermal regulation as bamboo is three degrees cooler than other fabrics and is capable of wicking moisture from the human's body.
Useful accessories
The lightweight summer comforter is available in two sizes: queen (96 × 92 inches) and king (110 × 96 inches). The item weight is 9.05 pounds.
Pros
Ecological natural material;
Cool and lightweight;
All season comforter;
Durable;
Soft and pleasant to touch;
Excellent quality;
Non-sweaty.
Verdict
A really cool comforter for summer from Cariloha is great thanks to the natural bamboo fabric it is made from. Being a bit heavier than other examples it is highly competitive in the softness and durability. Of course, it might be not easy to get an oversized comforter to the dry cleaners each time you child spills anything on it, but there is hardly anything better for our body than cover with an ecologically safe breathable comforter that will undoubtedly allow staying cool in summer.
If you still wonder 'is there a blanket that keeps you cool', this summer comforter from Natural Comfort is definitely one you look for. It features not only excellent characteristics and four different sizes but also an appealing design that will look wonderful on every bed.
The comforter is extremely lightweight and cool as it has 100% polyester filling and 100% microfiber embossed shell. That makes it hypoallergenic and incredibly soft to touch.
In addition, both these materials can be easily cleaned using a washing machine.
Designed in box stitch style it has an evenly distributed filling that is not subjected to crumbling and will serve its owners for a long time.
Additional accessories
The summer blanket can be purchased in four different sizes (dimensions and weight indicated in brackets):
Twin (88 × 66 inches, 20 ounces);
Full (90 × 84 inches, 26 ounces);
Queen (95 × 90 inches, 29 ounces);
King (104 × 95 inches, 32 ounces).
In general, it is one of the most reasonable comforters for summer and people who like cool sleep.
Pros
Durable;
Lightweight;
Attractive box-patterned design;
Good quality;
Easy to clean;
Multiple sizes.
Verdict
It is undoubtedly the best down comforter for warm climates that is also durable and lightweight. If you like sleeping cool and do not mind synthetic materials, though they have a big benefit of being non-allergic. In addition, blankets made from polyester and microfiber are easily cleaned and thin, so you will enjoy this comforter in summer.
5. Bedsure Printed Quilt – Effective blanket for summer sleeping
Is it possible to substitute 5 different bedding with a single item? The Bedshe brand offers exclusive versatile sets that can serve as a quilt, coverlet, bed cover, summer blanket, and bedding decor.
This set consists of a summer comforter and 2 shams. They are made from 100% microfiber material that is a guarantee of utmost softness, light weight, and durability. This material is breathable and remains cool even on the hottest nights. As every item consists of 3 fabric layers stitched carefully together they become resistant to fading and wrinkles. The set is not only pleasant to touch but also provides a luxurious bed look. What makes this line exclusive is a wonderful floral pattern that makes it lovely and inspiring.
Despite the fact that the set is soft and breathable it is also reliable and long-lasting thanks to quality stitches and construction. This best summer blanket can be used all year round too as the fabric it is made from is warm enough for cold seasons and cool for hot ones. It can be washed in the machine only in cold water and without adding bleach and using tumble dry.
The summer comforter and shams are available in 11 different floral patterns and three sizes:
Twin (comforter: 68 × 86 inches, shams: 20 × 26 inches);
Full/Queen (comforter: 86 × 96 inches, shams: 20 × 26 inches);
King (comforter 106 × 96 inches, shams: 20 × 36 inches).
Useful information
The full comforter weighs only 4.3 pounds. In addition, the manufacturer guarantees a 5-year warranty and 30-day replacement or return service if a client is not satisfied with the product.
Pros
Multiple color aesthetic designs;
High-quality;
Lightweight;
Cool in summer and warm in winter;
Excellent quality;
Nice customer service.
Cons
Very thin;
If washed in warm water, colors diminish.
Verdict
Many people would like to know 'what is the coolest material for summer?', however, there is hardly any more suitable fabric than polyester or microfiber. No wonder Bedshe brand has chosen it for their wonderful comforter sets that are undoubtedly comfortable. Easy to wash, versatile, good-looking, they will adorn any bed for many years. Layered and stitched fabric has wonderful floral patterns that will create a pleasant summer atmosphere even on cold winter days.
The watercolor bedding accessories look very refreshing, relaxing and inspiring. They remind us or let us dream about incredible sea voyages and cruises, Ocean, distant countries and summer holidays. The coastal stripe design looks very modern, light-toned and beautiful. Additionally, it's vibrant, beautiful and tranquil. The dark blue stripes don't look quite navy, but very stylish and elegant. In common, the colors are true to the picture and impressive. The navy stripes on the quilt back are still lighter than on the front size.
The set includes 6 pieces, namely:
a comforter;
2 shams;
3 different-sized decorative pillows.
The comforter is quite thin, recommended for cool months (here, in Texas, or somewhere on the south, for example, in Florida, it's suitable for winter). The material is soft, having no synthetic feel. The filler is polyester, but its composition is 90% cotton, so it's quite natural, but not very warm, lightweight, pleasant to touch.
The decorative pillows are really fantastic! They finish the room look, creating a charming accent. Especially beautiful is the seashell one that is embroidered.
Additional Recommendations
The color selection of additional accessories and sizes
The shams are king size, fitting virtually all pillows. Unfortunately, a bed skirt is not included in the set. However, I think, it's not a problem, as you definitely have at least one available. For example, a white one would match the watercolor, navy design pretty good. The set can be also paired with black shirts and look very stylish and elegant.
The California King size is the largest possible, so I recommend you opting for this size, as it fits all beds, for example, full size or king ones. The sides can hangover, looking quite good, anyway.
What I adore about this set is that it's machine washable and durable. I have washed it and dried many times and it remains as bright as a new one. The fabric and the quilt itself does not shrink, avoiding color saturation, pilling or loss of softness.
Pros
vibrant, relaxing blue color;
modern, stylish design;
machine washable;
durable;
soft;
lightweight;
large size;
beautiful decorative pillows.
Cons
can be warm for the southern climate.
Conclusion
The bedding set from Madison Park is top-quality, soft and lightweight. It's navy striped design is beautiful, modern and calming. Coming with accent pillows that really brighten the bedrooms, the California King size quilt is generous by dimensions, fitting any size beds. Additionally, it's machine washable and durable.
7. Comfort Spaces – A reversible mini set in contemporary style
This mini set contains just the basic elements you will need to create stylish bedding. The set includes a summer weight comforter and matching pillow shams for your daytime pillows.
All these items are reversible and feature two solid colors that make up tasteful combinations. Through stitching creates a contemporary diamond-shaped pattern. Such a design gives it a modern and upbeat look.
As for the pillow shams, they are quite plain. They don't have any embellishments, just simple double-sided cases with zippers on the sides.
The microfiber fabric the set is made of is very soft and easy in care. The insulating layer is made of polyester material. It is not particularly lofty, but sufficient enough to keep you comfortable during summer and maybe even fall or spring, depending on the area you live in.
Interesting information
3 pieces in the set.
10 color combinations available.
Diamond-shaped pattern.
Contemporary design.
Materials used: microfiber and polyester.
Pros
The fill is rather thin and comfortable for summer use.
Reversible design allows you to incorporate different ideas into your bedroom style.
Easy to wash and dry.
The stitching adds style and keeps the batting in place.
Cons
Matching pillow shams are too plain to serve as a decoration.
Verdict
With this reversible dual-colored comforter set you can style your bedroom in different ways according to your current mood. The comforter is rather lightweight, but soft and cozy at the same time. The pillow shams are not particularly well designed. But since they are not the focus of our review, they will not considerably affect the impression about this product.
Complete buyer's guide: how to choose a lightweight and cool summer comforters
Unfortunately, the climate in different zones of our planet is quite various and some people have to suffer from summer heat almost 10 months in a year. As a result, one of the problems they have to challenge is good sleep, so they need to find a suitable comforter for hot summer nights.
What kind of blanket is best for summer? To answer this question you should analyze what results from you want to get from this blanket and what functions it should have. One more often asked a question is 'what is the softest blanket material for summer?', however, there is no single right answer to it too. Let's see what features a good summer comforter should have and how to choose it properly.
Cool and breathing
For a sweat not to disturb you at night choose a comforter that remains cool, can breathe or has temperature regulation qualities
Soft to touch. Looking for soft comforters it is better to pay attention to duvets that need an exterior shell or can be used without it. It can be stitched but only if there are large non-stitched parts too or it will lose its softness.
Washable. It is better to prefer comforters that can be easily cleaned in the washing machine. It is especially great if they endure high temperatures.
Versatile design
A comforter may serve not only as a night sleep cover but also be a quilt, duvet, coverlet or decor. You should evaluate how it would be used in the room to understand what example to purchase.
It is also necessary to consider if a design plays an important role for you. It might be significant if you are going to use a summer comforter as a bed coverlet. If it is hidden from the eyes of others in the bedding, it may play no role at all.
Lightweight and suitable size
It goes without saying that you will never feel cool under a heavy comforter that is difficult to move. Lightweight and cool are interdependent qualities of a good summer blanket.
Most summer comforters are available in two sizes: queen and king, but there are products with twin and full sizes as well.
Material
As many other products, comforters can be made from natural and artificial fabrics. Both of them have their benefits and drawbacks, but for a summer blanket to be lightweight and cool it is preferable to choose polyester or bamboo viscose.
Conclusion and Recommendations
A comforter is a very important thing for summer nights as it determines how well you will sleep under it if it is hot outside, and even inside the room. That is the reason to pay much attention to the choice of a necessary product. It will guarantee you pleasant emotions, an excellent mood, and wonderful health state – the consequences of good nice sleep.