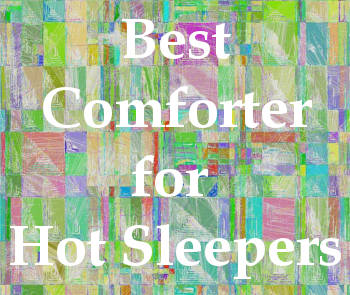 Many of us associate comforters with warmth, so a phrase "the best comforter for hot sleepers" might sound like an oxymoron. Indeed, if a person often gets hot while sleeping, wouldn't it be easier to skip a comforter and use a thin blanket or just a sheet instead?
Likewise, can to sleep without a cover whatsoever? This might be a solution for some of us, but others just need to be embraced by a fluffy mass. That makes them feel cozy and protected. So if this is a case with you or any of your family members, this article is worthy of your attention.
Top Comforter for Hot Sleepers in 2023
Image
Product
#1. Natural Comfort


Shell Fabric - Embossed microfiber
Fill - Down alternative polyfill
Construction - Box stitching
Season - Summer

Editor's Choice


Check Price


Read Our Review
#2. Silk Camel Luxury


Shell Fabric - Cotton
Fill - Mulberry silk
Construction - No stitching, piped edge
Season - Summer

Check Price


Read Our Review
#3. EASELAND Soft Quilted


Shell Fabric - Microfiber
Fill - Down alternative polyfill
Construction - Box stitching
Season - All seasons

Check Price


Read Our Review
#4. LilySilk All Season


Shell Fabric - Cotton
Fill - Mulberry silk
Construction - No stitching, piped edge,
special fixation technique
Season - All seasons

Check Price


Read Our Review
#5. Eddie Bauer Striped Damask


Shell Fabric - Cotton, Damask weave
Fill - Goose down
Construction - Box stitching
Season - Summer

Check Price


Read Our Review
#6. L LOVSOUL Comforter


Shell Fabric - Microfiber
Fill - Down alternative polyfill
Construction - Box stitching
Season - All seasons

Check Price


Read Our Review
#7. TEKAMON Soft Quilted


Shell Fabric - Microfiber
Fill - Down alternative polyfill
Construction - Diamond stitching
Season - All seasons

Check Price


Read Our Review
#8. CUDDLE DREAMS Silk Comforter


Shell Fabric - Cotton
Fill - Hypo-allergenic Down
Construction - Baffle-box
Season - All seasons

Check Price


Read Our Review
#9. Climabalance Lightweight


Shell Fabric – Mesh/Polyester
Fill – Down Alternative/Sensofill
Construction – Box Stitching
Comfort – Winter + Spring and Fall
in Cold Areas

Check Price


Read Our Review
We have researched the market and selected seven best comforters for night sweats. At first glance, you cannot distinguish them from regular comforters, but they can do magic to your body. Even if you already own a comforter that keeps you cool, getting a spare one would be a great idea. So let us waste no more time and get right to our review.
1. Natural Comfort White – Top Bedding for Hot Sleepers

If you are searching for a regular lightweight comforter to keep you slightly warm (not suffocating hot), you might want to take a look at this microfiber comforter from Natural Comfort. It carries thin polyester batting inside, evenly distributed throughout stitch boxes. The filling is rather thin and far from fluffy, but just great for tucking under a mattress as in a military bed making style.
Plush microfiber fabric features a barely-there embossed chequered design. Although this is an independent comforter, it would rather make a great duvet insert. It has corner tabs for securing a duvet cover.
Many people are reluctant to buy white comforters because such products get soiled very quickly and require frequent care. With this comforter that will be easy and hassle-free. It can be washed and dried in machines, just like a regular blanket.
Additional information
Microfiber shell.
Polyester filling.
Box stitching.
Embossed pattern.
White color.
Pros
This comforter is very light, almost weightless – just perfect for hot sleepers.
Features corner tabs, by which it can be tied down to a duvet cover to avoid shifting.
Easy to care for.
Cons
This comforter has a very little loft and will not suit the needs of people who prefer fluffy bedding.
Not as breathable as natural cotton comforters.
Verdict
If you have a limited budget but want to get a decent, lightweight comforter that will not make you sweat all night, this product might be just the right one. This microfiber comforter with polyester batting is designed for all climates and seasons. It is rather on a thin side and does not have a lofty look. Instead, it is great for tucking under a mattress and going into a duvet cover.

2. Silk Camel Luxury Allergy Free – Good Cooling Comforter for Hot Sleepers

There are many types of comforter available on the market, but silk ones are considered the best for hot sleepers. Indeed, silk outscores all other fill materials in regards to lightness in weight, breathability, and ability to wick moisture. This high-end comforter from Silk Camel combines all the great qualities of natural silk so you can put them into service for your own enjoyment.
The core of this comforter consists of long strands of natural silk derived from mulberry trees. With the same level of insulation, it is considerably lighter in weight than other materials, such as polyester and even fowl down filling. This comforter is not particularly fluffy, but rather pliable and yielding. It will contour the shape of your body providing a snug feeling without overburdening you with its weight.
Aside from breathability, lightness in weight and moisture draining capabilities, natural silk has other advantages. It is hypoallergenic and hostile to dust mites, mold, and mildew. Even without washing, this comforter will still remain a healthy sleeping environment. Speaking about washing, this is probably the only disadvantage of natural silk comforters. Care instructions are rather strict and exclude washing and drying in machines. However, if you use it as a duvet insert at all times, you can skip washing whatsoever and maintain the original look and properties of your favorite comforter for a lifetime.
Features and Specifications
Natural mulberry silk fill.
Shell fabric: 100% cotton.
Plain white with a blue piped edge.
No through-stitching.
Summer weight.
Pros
It is more lightweight than similar comforters filled with down.
Natural silk manages perspiration and helps avoid overheating more effectively than any other filling available on the market.
Hypoallergenic and resistant to malignant factors, such as mildew, mold and parasites.
Features 8 loops (on corners and on all sides) for a proper fixation against shifting inside a duvet cover.
Customer quality control is enabled via a wide zipped opening on one of the sides of the comforter.
Supplied in a reusable designer bag for convenient storage and transportation.
Cons
The comforter is hard to clean. Washing can ruin the silk, so you need to be extra careful not to soil or stain the product.
Verdict
This lightweight cotton comforter with silk filling can solve the problem of night sweats once and for all. Silk fibers let the air freely pass through and facilitate quick evaporation of excess moisture. Besides, this comforter is exceptionally lightweight, hypoallergenic and hygienic. Unlike other comforters, it is not fluffy and will not give you a sensation of sleeping in the clouds. Instead, it will drape around your body, much like a sheet, only cozier. This silk comforter is great in all respects, but only if you are willing to handle it with care.

3. EASELAND Soft Quilted – Super Light Comforter for Summer

This all-seasons top lightweight comforter can help you manage night overheating. It is made of premium synthetic materials that ensure comfort for both cold and hot sleepers. As we know, microfiber fabric is tear-resistant and pleasant on the skin. Besides, it is quite breathable and will not cause excessive sweating during the night.
The item is sewn through to secure the fill-in its place. Besides, box stitching creates a finished look, making additional bedding decoration quite unnecessary. Nevertheless, this comforter has low-key corner tabs, by which it can be tied down to a cover if you decide to use one.
Many hot sleepers do not like heavy comforters or blankets, because of the uneasy, suffocating feeling they give. This comforter is rather on a lighter side and creates a gentle pressure, just enough for you to feel snug.
Useful information
Down alternative polyfill.
Brushed microfiber fabric.
Medium loft.
Available in two colors.
Box stitching.
Pros
Lightweight and easy on your skin.
Breathable fabric helps prevent night sweats.
High-quality stitching and reinforced hemming ensure exceptional durability.
Hypoallergenic fill.
Also suitable for cold sleepers who need a warm environment to stay comfortable.
Features corner tabs which allow it to be used in combination with a duvet cover.
Cons
Synthetic fabric and fill are less breathable than those made of natural fibers.
Verdict
This light cooling comforter from Easeleand is made of the softest materials and can help manage night sweats at any time throughout a year. It is soft, soothing to the touch and moderately fluffy. Simple, traditional design will coordinate well with any bedroom setting, whether classic or modern.

4. LilySilk All Season Luxury 100% Silk – A Natural Temperature Regulating Comforter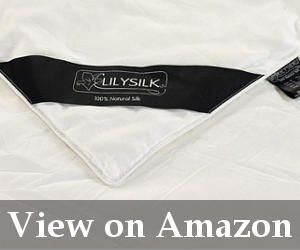 A light summer weight duvet can be a great solution, but as the temperature drops considerably below 32 degrees, even hot sleepers might feel like they need a warmer cover. This medium-weight mulberry silk comforter from LilySilk can provide hot sleepers with all-year-round comfort and help manage night sweats. It can keep you cozy during chilly nights, and release excess heat from your body at times when the temperature outside reaches its extremes.
To ensure that natural breathability of silk strands is not hindered, the filling is enclosed in a pure cotton shell. It is complete with four corner loops for securing a duvet cover and a side zipper that enables customer inspection of the filling. Natural mulberry silk has unique antimicrobial properties and does not cause allergies. It will never host dust mites or bed bugs; nor will it develop bad odor (of course, if you air it out periodically).
This comforter is not washable, neither by hands nor in a machine. That is why a manufacturer strongly advises to put it in a duvet cover right after the purchase. The company also supplies duvet covers that fit just perfectly. In exceptional cases, you can use it just with a sheet underneath, but you have to keep it out of reach of pets and avoid eating in bed.
Interesting features
Natural mulberry silk fill.
Cotton shell (300 TC).
Plain white color.
No through-stitching.
Medium weight.
Pros
Designed for all-season use. There is no need to buy separate comforters for each season.
It is loftier than summer-weight comforters, but still comparatively lightweight.
Breathable and moisture-wicking silk does a better job at relieving night sweats than other fill materials.
Stays hypoallergenic and hygienic even without washing.
Cons
Washing is prohibited, so if stains do occur, they will be difficult to remove.
Verdict
This all-seasons comforter form LilySilk does an equally great job at keeping you warm and revealing night sweats. It is rather lofty, but not excessively puffy. The long-strand mulberry silk is a great alternative to natural fowl down, especially for people with allergies. It does not accumulate moisture or dust and remains clean and healthy even without washing. Just like other silk comforters, this item is not washable (only spot-cleaning is acceptable in exceptional cases).

5. Eddie Bauer Striped Damask 700 Fil – Down Comforter for Hot Sleepers

Goose down is a traditional fill material that is often used for insulation in high-end comforters, primarily because of its exceptional warmth. This super lightweight down comforter from Eddie Bauer is a great example. With 700 cubic centimeters of the down fill per gram, this extra fluffy comforter boasts an excellent insulating capability. Nevertheless, it is exceptionally breathable and will not cause overheating even in summer.
The cotton shell features a striped Damask-weave pattern. This simple, yet classy detail brings a touch of elegance to the overall design. The weave is close enough to secure the fill, but loose enough to provide unhindered airflow between the threads. Box-style quilting also contributes to breathability.
Many people are reluctant to wash down duvets in machines to avoid lumping and leaking. This item is totally washer and dryer friendly. The only requirement is to use cold water and low cycles.
Interesting benefits
White down batting (700 fill power).
Cotton exterior (350 TC).
Box stitching.
Striped Damask design.
Pros
Made with optimal fill power that guarantees an ultimate combination of lightness and coziness.
Breathable shell.
Simple, but classy design.
The filling is refined and stripped of all possible allergens.
Great for year-round use.
Only cruelty-free down is used in the production of Eddie Bauer bedding.
Cons
The fabric is rather rough and might irritate very sensitive skin.
Verdict
The exceptional qualities of a high-end down duvet are definitely worth paying for. The Eddie Bauer duvet is lightweight, breathable, lofty and, importantly, hypoallergenic, unlike many other products filled with low-grade materials. Hot sleepers will appreciate its ability to manage night sweats and keep a bed nice and cozy during freezing winter nights. Classy striped design enhances the luxurious vibe.

6. L LOVSOUL Down Alternative Comforter – A Medium-Weight Down Comforter for All-Year-Round Use

This is a classic and affordable bedding piece for hot sleepers. It contains the high-grade blend of down and feather, in which the former constitutes 75 percent. The fill power is somewhat lower than in a previous product, but still sufficient to ensure lightness in weight without compromising the thermal properties.
The exterior fabric appears to be somewhat loosely woven, therefore it is breathable and great for hot sleepers. However, it might let some feathers out through the space between the threads. Keeping this duvet inside a cover will help avoid disappointment. For your convenience, the comforter has four corner ties that will hold it in place.
Unlike other products featured in this review, this comforter is constructed with baffle boxes. The filling is distributed among multiple segments, each separated from adjacent ones by baffle walls (not just stitching as in sewn-through comforters). Such a design eliminates cold spots and allows to achieve a more significant loft with the same amount of fill.
Interesting information
Cotton Shell (233 TC).
Fill content: 75% down, 25% feather.
Baffle box construction.
White color.
600 fill power.
Medium weight.
Pros
Baffle-box design provides outstanding insulation and eliminates any chance for the fill particles to migrate from one segment to another.
Double-needle stitching ensures increased durability.
In spite of its loftiness, this comforter is rather light and breathable.
Allows body heat and excess moisture to travel through.
Cons
Requires professional dry cleaning, which might get quite costly.
The exterior fabric is not tightly woven, so individual feathers might come out occasionally.
Verdict
This versatile down duvet insert from Puredown can help hot sleepers stay comfortable during nights all-year-round. Baffle-box design gives it an edge over stitched-through comforters. Although it is built with durable double-needle stitching, some leakage might occur because the exterior fabric is not tight enough.

7. Tekamon Comforter Cooling 2100 Series – Fluffiest Down Alternative Comforter on Our List

This is a cozy summer weight comforter from the Tekamon Hotel Collection. It is rather lofty but surprisingly lightweight and suitable even for summertime. A soft brushed microfiber shell has moisture wicking capabilities and in combination with polyester down alternative filling, it helps regulate body temperature and avoid overheating. Hot sleepers will appreciate the comfortable temperature range within which this duvet can maintain their beds (89°F – 93°F).
The evenly distributed filling is held in place by elegant diamond-style stitching. This comforter will maintain its shape even if taken through numerous washing and drying cycles. It does not require any special treatment and gets even fluffier after tumble drying.
Useful features
Brushed microfiber shell.
Polyester fill.
Diamond stitching.
White color.
Corner tabs for a duvet cover.
Summer weight.
Pros
Resistant to tearing and leaking.
Prevents overheating.
Can be used during the cold season as well.
Easy to care for.
The fabric is exceptionally soft to the touch.
Cons
The item is slightly undersized.
Verdict
This down alternative comforter is an affordable option for hot sleepers. It is breathable and has the ability to wick moisture thus maintaining your bed at a comfortable temperature. This is a lightweight comforter, which can be used throughout a year. It is somewhat undersized, so it will not provide beautiful overhand and might be a bad fit for some duvet covers.

8. CUDDLE DREAMS Silk Comforter – A Luxurious Box-Stitched Down Comforter

A natural goose down comforter is an all-time favorite among hot sleepers. This particular comforter from Rose Cose is not an exception. It is filled with pure goose down (no feathers added) to provide the highest level of comfort possible.
One of the main troubles of hot sleepers is excessive sweating that can completely ruin even the soundest night sleep. This comforter can help manage this problem thanks to its breathable 100% cotton shell. Some customer actually refers to the fabric as the one that gives a cooling sensation. Besides, it is soft and cozy to the touch, nothing like scratchy polyester or poly-cotton blends.
This plain-white comforter can be used as a duvet insert without any issues. For your convenience, it features branded tabs on each corner. Bright-Yellow braided piping reinforces the edges while adding a touch of playful chic.
Features and benefits
100% goose down.
1200 thread count cotton.
Box stitching.
Piped edges.
Corner tabs.
Pros
Medium fill power allows it to be used all year round.
The fabric is cooling to the touch.
Durable stitching and reinforced edges.
Perfect for going inside a duvet cover.
Cons
Requires professional cleaning services.
Verdict
This classic down comforter is just perfect for hot sleepers. It contains a high-quality goose down batting with a fill power of 750 cubic inches per ounce. This luxurious-looking comforter can be used independently, but since it is not washable, we advise to use it with a duvet cover.

9. Climabalance Lightweight: Innovative Temperature-Regulating Comforter

Are you a hot sleeper? Uh-huh, but you would anyway need a cover. In winter, it keeps you warm. Even you live in Minnesota or Alaska; you won't like goose down filler. Climabalance comforter is a cool alternative. It's lightweight, innovative and comfy.
Sanders GMBH produces this perfect bedding accessory. Innovative technology supports the concept. Research conducted at the University of Regensburg has got amazing findings. It improves the quality of sleep. Which way?
Mesh fabric and unusual design will allow the comforter a lot.
Useful Information
Regulate your body temperature.
Avoid excess moisture accumulation.
Help you fall asleep right quick.
Reduce or eliminate night sweats.
Breathable comforter with mesh patches improves airflow. It reduces perspiration and overheating issues. You don't need to move to cool down. Therefore, you sleep longer and deeper.
The bed cover is thin and lightweight. What about the materials? Nobody discloses the secret. A patent protects it. Anyway, it seems to be synthetic. A blend of polyester with traditional cotton fibers seems to be a convincing explanation. Both shell and fill are beneficially hypoallergenic.
Unlike down, it doesn't make you sneezing or coughing in the morning. Additionally, the comforter requires no special care. It's machine-washable, easy to maintain. Manufacturers recommend selecting a gentle cycle and use warm water, up to 140 °F.
You might could use it with a top sheet or duvet cover. Prefer natural, breathable fabrics like cotton to avoid static charge issues. I would call this item duvet. To clarify, the comforter is plain-white, lightweight, but synthetic. Therefore, it's not very durable, fluffy, or warm.
Pros
temperature-regulating;
lightweight;
thin;
keeps you cozy, but cool;
breathable and comfortable.
Cons
statically charged;
small size.
Verdict
Climabalance hypoallergenic comforter is soft and breathable. It reduces sweating, improving the quality of sleep. So, I recommend it to all hot sleepers and people who live in cold regions. Use it in winter, sometimes in spring or fall, but not in summer.
How to Choose the Top Comforter for Hot Sleepers?
Even if you are a hot sleeper, there are still plenty of comforters and duvets for you to choose from. They are available in various designs, colors, sizes, and materials. The tricky part is choosing the one that would best suit your needs.
Basically, there are two main characteristics that define a good comforter for hot sleepers – a type of fill and shell fabric. Other things, such as stitching, size, and design are also important but are still secondary. So let us go over the main types of materials comforters are made of and discuss their pros and cons.
Fill types
Silk. Long-strand mulberry silk is probably the best fill material for hot sleepers. It is the most lightweight, breathable and delicate. Natural silk has the ability to wick away moisture and release excess heat. Silk comforters are the top comforters for hot flashes. They are rather expensive, so buying one will be a great long-term investment in comfort.
Natural goose/duck down. This is a traditional insulating material that provides all-year-round comfort. Its insulating properties largely depend on the fill power. In down comforter fill ratings the optimal number is 700 cubic centimeters per gram. 600 is still good, while 900 produces a fluffy and extra-warm comforter, not suitable for hot sleepers. Some down comforters contain some percentage of the feather. That reduces the fill power and makes the product heavier. But the price on such comforters is usually lower, so it might be a sound choice. There are many types of down comforters, for instance, Canadian, Chinese, North American and European down comforter. They have slightly different properties, so you should always pay attention to the origin of down.
Down alternative material. Polyester is a more affordable alternative to natural down. High-quality polyfill can look and feel almost like goose down and have identical insulation properties. However, this is still synthetics, which is less breathable than natural fill. On the upside, polyester comforters are hypoallergenic and undemanding in terms of care. Down alternative comforters are often made with polyester or microfiber shells. If you do not like synthetics, you can opt for an organic down alternative comforter with a shell made from organic cotton.
Types of shell fabric
Natural cotton. Thanks to its natural properties and affordable price, cotton is the most popular and appreciated bedding material. A combination of natural filling material (down or silk) and a cotton shell makes a breathable comforter, perfect for hot sleepers. When choosing a down comforter with a cotton shell you have to pay attention to thread count. Too many threads (500 TC and more) will hinder breathability, while loosely-woven fabric (less than 300 TC) is more likely to let some down and feathers out.
Microfiber. If you asked what is the softest comforter material, the answer would be microfiber. Cotton can never compete with microfiber in terms of softness. Also, the latter is more durable and less prone to pilling. On the downside, microfiber is not as breathable as cotton and cannot provide hot sleepers with absolute comfort.
Conclusions and Recommendations
Being a hot sleeper does not mean you should deny yourself the pleasure of snuggling in a cozy comforter. There are so many options available, you just need to choose the best one for yourself. With our list of 7 cool bed comforters for hot sleepers that should be easy. After all, you cannot put a price on a healthy night sleep, so investing in the best comforter to stay cool at night just seems like the right thing to do.