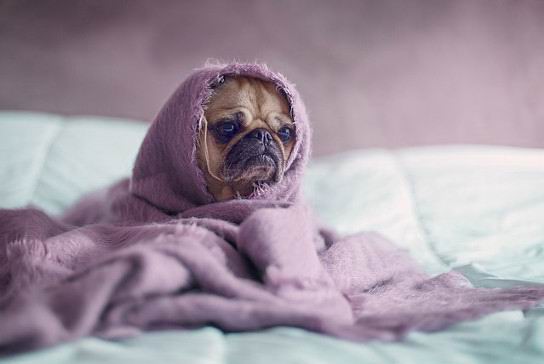 If you're looking for a cozy detail to add the final flourishing touch to your bedroom, a purple comforter set might be the right thing for you. Each color has a specific vibe to it and affects our mood in a unique way. Violet or purple is considered a royal color, which adds a chic feel to your interior. When it comes to bedroom decoration, what if not a bed itself can serve as a centerpiece and a statement element? Naturally, you would want it to look cozy, welcoming and elegant. After all, this is a place where you spend almost one-third of your life, so why not add a little charm to it?
When choosing a comforter for your bedroom, you should take into account several important characteristics, such as size, fill power, warmth level, thread count (density), fabric composition, and, of course, design. The market of bedroom comforters is abundant with different models, and it's very easy to get lost among the options.
Since you have probably already decided on the color of your comforter, this article will guide you through the myriad of options and help you choose the best one for your home.
Top Purple Comforter Sets in 2019
This is a light comforter set with pink and purple floral design. It consists of a king-size coverlet and two pillow shams with wavy flanges. The comforter comes with soft pure cotton filling with a light level of insulation. During the warm season it can serve as a blanket, and as a coverlet throughout a year. The quilted surface fabric has an appealing embossed texture.
One side of the reversible comforter features a dreamy purple floral design, while the other side showcases purple, green, and gray stripes on a white background. It offers you two decoration options to match your mood and bedroom style.
The inner filling of the purple comforter is pure cotton, while the face is made of microfiber. It is soft to the touch and very nice-looking, but if you don't like synthetics, this might be a downside for you. However, it won't be such an issue if you use it only as a coverlet.
Overall impression
The purple comforter will lend your bedroom an elegant Provence-style vibe. It is easily washable, so you can use it as a single covering, even if you have animals who love to lie on your bed. It is not long enough to allow for a pillow tuck or a long drop, but if you use it on a queen- or double-size bed you might achieve the desirable effect. Its design allows you to use it sideways on a bed of any size to achieve an elegant drop to the floor.
Pros
Two purple designs available in one product.
Quilted texture.
Soft to the touch surface fabric.
Perfect warmth level for the summer.
Cons
King size comforter is too short for a regular king size mattress. It will be a perfect fit for a queen-size bed.
Standard size shams are too small for a king-size bed.
2. Grand Linen 3-Piece Tropical – Reversible Embossed Comforter – Dark Purple or Light Purple
Grand Linen Coast Seashell Beach is a rich-colored California king-size purple comforter set. It has increased length and width that allow it to gently drop to the floor from all sides. Deep, saturated purple creates a royal atmosphere in the bedroom, while a lighter hue on the reverse side can make a room look fresh and vibrant. The fabric is 100% microfiber. It is machine washable and can fit in any regular sized machine. This might be a huge advantage if you have pets, children or just like having breakfasts in bed.
Although it has a quilted appearance, the stitches are not real – they are achieved through a special heating process. On one hand, it makes the comforter look less authentic and homey, but on the other hand, one will not have to worry about threads coming apart.
Common representation
The product consists of an oversized purple comforter and two matching pillow shams. The quilted exterior of the purple comforter and shams features ocean-themed design. The quilt is rather thin, with little batting inside. It can work as a comforter during the warm season. It is rather lightweight, lighter than most regular quilts.
Pros
Reversible purple comforter and pillow shams in rich and vibrant hues.
Available in California king size, which is longer than regular king-size comforters.
Low-maintenance and easy to clean fabric.
The purple face fabric is particularly tightly woven and soft to the touch.
Thin and lightweight.
Cons
The comforter is not large enough to cover a mattress with a box spring and touch the floor, so its use is limited to a coverlet, which will need to be complemented with dust ruffles. However, it will work well on queen-size and smaller mattresses.
Cozy Beddings reversible purple comforter might be a nice solution for a contemporary style bedroom or a child's room. The reversible green and purple comforter come with two matching pillow shams. The purple comforter has a medium-warmth down alternative filling. It is claimed to be as warm as goose down for a fraction of the cost of the natural material. Besides, the polyester filling is hypoallergenic. The batting is secured in its place by box stitching. The surface fabric is 250 thread count, so it is rather fine and lightweight, at the same time tight enough to prevent the filling from sticking out.
The product is rather easy to clean. It can be washed in a machine on a low cycle with mild detergent. The fabric is very soft to the touch. In combination with a fluffy filling, it offers a soothing and enjoyable sleeping experience. It might be too hot for summertime, but in the colder season, it will provide just the right amount of comfortable warmth. The green and purple comforter can be used as a single covering piece and in combination with sheets or a duvet cover.
General representation
This is a nice solution for a contemporary style bedroom or a kid's room. The purple comforter makes a warm and cozy blanket, as well as a stylish and durable coverlet.
Pros
Fluffy, lightweight and warm purple comforter to sleep under from fall through spring.
High quality hypoallergenic down alternative filling.
Tightly woven, soft to the touch exterior fabric.
Box stitching ensures that filling does not migrate inside the comforter.
Does not require any special care, can be washed in a machine.
Cons
The pillow shams don't hold pillows very tightly.
The stitching gets loose and snagged with time.
4. AmazonBasics 7-Piece Bedding Set – Purple Bed in a Bag Queen Size Comforter with Floral Pattern
Bed in a bag is an ultimate set of bedding elements enough for you to dress your bed. This purple set contains seven basic pieces, including a purple comforter, two sheets (a flat sheet and a fitted sheet), two pillowcases, and two pillow shams. This product is designed for full- and queen-size beds; however, it will also work for a twin bed.
The exterior of the comforter and pillow shams features a delicate floral pattern, while their reverse sides, pillowcases, and sheets are solid purple. In such a way the design does not look overwhelming and will most likely fit in with any interior.
The fabric and filling are made of 100% polyester. The fabric has a gentle texture and a soft feel to it. It is not crisp and rough as compared to cotton and linen sheets, but rather soft and easy to drape and fold. The purple comforter is medium weight, not too thin, but not overly fluffy. It can be used as a blanket, as a coverlet or as a bedspread. However, due to the 100% synthetic structure, the fabric is not breathable, so it might get too hot under it in the summertime.
Common presentation
This purple bed in a bag is a warm and comfortable ensemble, which might be appreciated by young people headed to college or moving out of their old places. It can also make a nice housewarming, wedding or anniversary gift.
Pros
This is a full bedding set that includes all essential elements to dress a bed.
White floral design on a purple background makes this piece a nice bedroom decoration.
Good color after washing.
Warm, medium-weight purple comforter.
Cons
This is a synthetic product, so in summertime one might get very hot sleeping on the sheet even without a comforter.
5. Chic Home CS1439-AN – A Designer Embellished King-Size Purple Bed Set of Six Pieces
This microfiber set is made in a deep, dramatic purple and embellished with pinch pleat design. It consists of the following elements: a purple comforter, two matching pillow shams, a matching bed skirt, a purple decorative pillow with embroidery, and a white breakfast pillow. It does not include sheets, but it can be tastefully combined with regular plain white or purple sheets, which can be found almost in every store.
This purple bedding set is designed to bring a touch of sophistication into a bedroom. The exterior of the purple comforter and pillow shams is pleated into rose knots that add more texture to the bedding and make it look loftier. However, the filling is rather puffy so you won't wish for more volume.
The filling of the comforter is 100% polyester down alternative. This is a hypoallergenic material that is almost as warm and lightweight as its natural counterpart. The purple comforter of the Halpert set is rather thick, so it can be used as a blanket even when the temperature outside drops below freezing.
The product is machine washable; however, dry cleaning would be preferable, especially for the purple comforter, which might not fit into every washer. Besides, the intense color might fade out a bit if washed inappropriately, so it would be safer to put the job into the hands of professionals.
Overall presentation
The Chic Home Halpert purple comforter set is a royal-looking bedding ensemble. It is made of soft purple polyester that is pleasant to the touch. The fluffy down alternative filling is rather warm, so it might be a nice solution for people who live in regions with cold climate.
Pros
Rich, vibrant purple color.
Sophisticated and extravagant pinch pleat design.
Warm, medium-weight purple comforter.
Includes a matching purple bed skirt, so the bed will have a finished look even if the comforter won't touch the floor.
Soft, rustle-free fabric for sound and comfortable sleep.
Cons
The fabric is rather wrinkly and is hard to iron out, due to the pleating.
Vibrant purple color is prone to fading if washed inappropriately or continuously exposed to direct sunlight.
This product draws attention to itself thanks to an exuberant floral and paisley design in purple, lime green, and turquoise. The set consists of a comforter and two pillow shams, designed in simple forms with slightly rounded corners. All three pieces are reversible, with the plain white alternative side. The surface of the fabric has a quilt-like appearance. The textured finish makes it look more voluminous, in spite of rather thin batting. This comforter can be a nice lighter alternative to warm and fluffy winter blankets.
The 100% microfiber fabric is gentle to the touch, stain-resistant and not slippery, unlike some cheaper synthetic models.
The printed pattern features a tasteful combination of purple, pink and turquoise flowers with a blend of lime green and timeless paisley design. This comforter ensemble can add a vibrant focal point to your bedroom. Should you wish to take a break from viewing the abundance of colors, you can flip it over and enjoy an understated look of pristine white bedding.
Common showing
This three-piece colorful comforter set features one of the most popular patterns – purple flowers and paisley. It is reversible, so provides two contrasting decorating options. The comforter is rather on the thin side, so one won't get hot under it even in the summer. It is stain-resistant and easy to clean, so it can be used even in families with pets.
Pros
Oversized fit to provide a nice long drop.
A vibrant purple design featuring a timeless pattern.
Reversible design offers more decoration options.
Stain-resistant fabric allows you to minimize the number of washes and thus increase the lifespan of the product.
Cons
The coverlet is too lightweight to rest firmly on a bed and will slide around if you sit or lay on it.
A newly bought item might have a slight unpleasant smell, which will take several washes to get rid of.
This is a luxurious 7-piece comforter set, designed in rich purple with black flocking. It has a very dramatic look and can become a striking accent piece in your bedroom. It consists of a purple comforter, two pillow shams, a bed skirt, a small square pillow, a neck roll, and a bolster. With this product, you probably won't need any additional elements to dress your bed.
It is made of soft and somewhat glossy purple polyester. The floral design has a velvety feel to it and makes the whole ensemble look rich and charming. The purple comforter is too short to provide a long drop on a king size bed, but that should not be a problem since it comes with a bed skirt. The coverlet is rather puffy, so unless it drops all the way to the floor, it will stick out on the corners a little bit. It can be tamed with a throw blanket, but you will have to find a matching one by yourself since it is not included in the set.
Common impression
This purple comforter set is an ultimate dressing solution for your bed. The comforter is light and rather puffy, filled with a down alternative material. It can be used as a blanket, but since it is quite tricky to wash, it will have a longer lifespan if used as a coverlet only. Set will look gorgeous on a black bed with a tall carved headboard.
Pros
Attractive purple and black design.
Includes seven pieces, which are enough to make a fully dressed bed.
Flocked design adds more texture and makes the purple comforter and pillow shams look more sophisticated.
Cons
The comforter is too big to fit in a regular washing machine, so one will have to take it to the laundry place to have it washed.
The fabric is rather delicate, so one will have to take extra care to prevent it from scratches.
The purple color that is also described as plum or violet is not the most common for bedding accessories. It's not traditional, however, this perfect tone is chic and modern. Purple is considered to be a royal color, associated with luxury, nobility, power, and sexuality.
Additionally, it is calming, promoting harmony of mind and emotions, mental stability and balance, reducing tension. It can be perfectly matched with multiple tints, but grey is the best. Thus, the striped comforter set looks nearly classic, neutral, and it's refreshing, calming to the eye, pleasant to touch, and its purple stripes color is extremely deep, looking much deeper than on the photo.
The set is extremely top-quality. It is made in China, however, it's very soft, comfortable and plush. Its quality can be described as outstanding or excellent. The fabric is very hard-wearing, functional, but soft, warm and fluffy. It is made of 100% polyester, machine-washable and looking bright and beautiful after several washing cycles. Quite naturally, if you are afraid that the fabric gets snagged in the machine, you can dry the comforter clean. However, these fears are quite unfounded. It still may wrinkle, but only in some years of use. Just be sure to select the cold/delicate laundry cycle, otherwise, it can really spoil the material.
Suggestions for size
The queen set is quite large for a full-size bed. I would recommend it also for smaller size beds too, as the comforter can hang over the sides, and it's ok. I would also mention that it's a bit short for a queen bed, so it may not cover a thick mattress.
The set includes 7 pieces:
a comforter;
2 pillow shams;
a bed skirt;
3 decorative, different-sized pillows.
The comforter is nice, warm and fluffy. The shams are of standard size, so, they are to fit the available pillows. I would prefer the oversized ones, but not the normal size shams, but it's still ok. What is really cute, are the decorative, accent pillows! They look beautiful and refreshing, creating an atmosphere of inspiration.
As to the warmth level, unfortunately, it's not specified by the seller or the manufacturer. However, I think, the comforter is versatile, warm, thick and lightweight. Here, in TX, I prefer using it in winter. However, my friends in Wisconsin, find it quite suitable for summer.
Overall conclusion
I recommend the comforter set from Madison Park, as it's top-quality, soft, machine washable and beautiful. The set is pleasant to touch and warm. The only drawback is the random stitching and a bit of shiny fabric.
Pros
beautiful;
top-quality;
warm;
stylish and calming deep-violet color;
machine washable;
soft and fluffy;
cute accent pillows;
hard-wearing fabric.
Purple Comforter Buyer's Guide
Purple comforter is a solution for people, who want to add some charm to their bedrooms. Elegant and classy, purple is a winner choice for bedroom decoration. So if you want to embellish your room with a purple comforter ensemble, this buyer's guide might help you find the right one among the endless array of choice.
Choosing the fabric
Beddings are usually made of cotton, linen, polyester, microfiber, or blended materials. Natural fabrics are exceptionally comfortable to the touch, breathable and durable, but rather expensive. Quality polyester and microfiber comforters can provide the same soothing experience for a fraction of the cost of natural materials. Microfiber is soft to the touch and extremely dense. The thinnest threads are woven so densely that the surface does not allow dirt and spills to sink deep into the material. The fabric is easy to maintain – some spills can be removed by wiping them with a napkin or soft cloth. On the downside, synthetic fabrics are not breathable, so you might get really hot under such comforter in summer.
Choosing the filling
The most popular filling, appreciated by many buyers, is goose down. It is lightweight and has exceptional insulation properties. However, it is rather expensive and might cause allergic reactions in some people. Its synthetic alternative provides almost the same level of warmth, costs less and is safe for people with allergies.
Consider the warmth level
This is the ultimate characteristic you should focus on when choosing a comforter. Depending on the region you live in and the time of year during which you intend to use the product, you can choose one of the following basic warmth levels: light, medium, and warm. Although in most cases greater fill weight means greater warmth level, you should not judge the comforter by its looks. Some thick and heavy comforters can be not as warm as thinner and lighter ones. All depends on the quality of the filling. High-end comforters come with fillings that keep you warm in winter and prevent you from sweating in summer.
Design is important
The purple color is known for its aristocratic vibe, so a purple comforter can make your bedroom look rich and sophisticated. It can be mixed and matched with other colors to create different moods. However, make sure to lighten it up with some brighter colors. Too much of purple can make a room look depressing, especially in combination with black. Purple and gold comforter sets, king size and purple and grey comforter sets, king size are timeless classics, which have already won the hearts of many families.
Conclusion
Today we have reviewed seven purple comforter sets, which, in our opinion, are among the best middle-market products. We have selected purple comforters in various designs to suit the most versatile tastes. However, this is only a tiny fraction of the widest spectrum of choices available on the market. Now that you've learnt the main points to consider when choosing a purple comforter set, we are sure you will be able to find the perfect one.